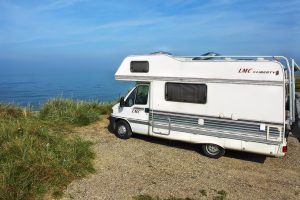 5 Simple RV Security Items You Need For Your Next Trip
A few well-thought-out security items can bring you peace of mind and they don't have to be very expensive. This list includes simple door alarms to more advanced software and cameras that can record any issues you might come up against on (or off) the road.
1. Dash cam and night cam
There are many reasons why dash cams have become so popular. Having a record of an accident or theft can save a lot of time and frustration. Not to mention they are cheap insurance that can be installed for around $100.
There are many dash cams available for vehicles and motor coaches that run off the battery and store footage to a card or to the cloud.
Another beneficial thing to have is a motion-activated night cam inside your rig. The camera can point out a window or your dash to capture everything from possible criminal activity to wildlife walking through your site. The Wyze motion camera is a $40 option with night vision and live streaming.
2. VPN for mobile devices
One thing that you might not think of having while camping is a VPN. This is most beneficial to working nomads, but even if you use your cell phone on public WiFi, having a VPN will protect your identity and private data.
A VPN is short for Virtual Private Network. They use encryption technology to hide your personal data during transmission. Not all VPN providers are the same, so it pays to do some research. However, NordVPN protects not only PCs but also Android and iOS devices for only $69 per year.
3. Indoor and outdoor motion lights
While you don't want to flood your campground neighbors with light in the middle of the night, having an outdoor motion light and some indoor motion lights can help deter unwanted campsite visitors and keep your family safe.
Installing a motion light just outside your RV door can help you go up and down your stairs or startle a possible burglar. In addition, having a motion light inside can assist with those midnight trips to the RV toilet.
4. Door alarm
Many women who travel or live alone know about the simple door alarms that go off if their door is opened or the lock is messed with.
These inexpensive alarms can be purchased on Amazon for less than $40 and attached to RV doors and windows. They can also be used to warn parents if a child or pet opens a door or cabinet.
5. Fake Fido or…Bigfoot?
If you really want to keep your security simple and cheap, there are various inexpensive or free noise apps that can scare off an intruder or warn people to stay away.
If you don't already own a well-trained dog, you can download a barking dog app with various angry dog growls or barks. Connect to a Bluetooth speaker and the sound could be quite effective. If you want to have a little more fun, download the Bigfoot Calls app for some spooky howls and mating calls.
RELATED ARTICLES:
Looking for a place to stay in SW Missouri? Come on by. Blue Skys RV Park has both short term and long term parking. We are a no frills, affordable, family friendly place to stay. Free Wifi and a laundromat. Whether you are looking for overnight, weekly, or long term, Blue Skys RV Park is the place to be. The owners will go above and beyond to make your stay a pleasant one. Check us out: https://blueskysrvpark.com