Portability and modularity seem to be getting more popular all the time. While most RVs and trailers have integrated power and shower options, there are also many smaller trailers, teardrop trailers, and vans that rely on portable power and some kind of portable shower or sprayer.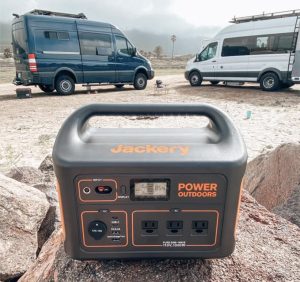 There are benefits to having these handheld portable options in any type of rig. Portable power packs and stations can be used independently of a rig and don't need fuel such as portable generators.
They can be charged via solar, 110 power, or from a vehicle's 12-volt port. Along with charging small mobile devices and laptops, they can run small appliances, which can save your rig's main battery in the long run.
Portable shower packs are for more than just showering. They can also be used outdoors for washing dishes, gear, and pets, or even indoors for dishes. They can also be taken into an RV shower to save water in freshwater storage tanks.
5 Portable Power Packs
The type of portable power pack you purchase will depend on what you want to power, size, weight restrictions, and cost. We've chosen a selection of portable packs that are relatively affordable and be taken on any type of camping trip.
1. RockPals 300W Portable Power Station
There are a variety of power stations available out there. While most of the buzz seems to be around the Goal Zero brand of stations, a nice middle of the road choice is the RockPals 300W station.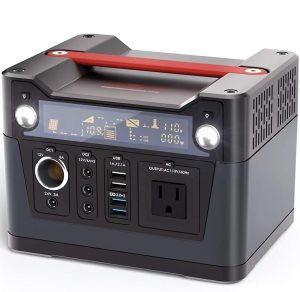 This super lightweight power cube is about the size of a lunchbox. It has three USB ports and both AC and DC outlets. It can run mobile devices and laptops as well as small appliances such as desk heaters and CPAP machines. It hovers around $260 and can be charged with any of the RockPals solar panels.
2. Jackery Explorer 240 Portable Power Station
In nearly direct competition with the RockPals is the Jackery Explorer. This pack is also very lightweight and provides power for devices and appliances.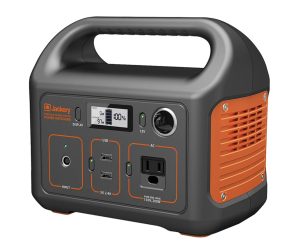 It has a handy LCD screen and a fixed handle for easy carrying. It also costs around $250. If you are not sure which of these lower watt-hour packs to choose from, check out the comparison video by RV dweller, Will Prowse.
3. Goal Zero Yeti 1000
If you are planning on going off-grid for a longer period of time and don't mind the higher cost, any of the Goal Zero products are rated as some of the best on the market.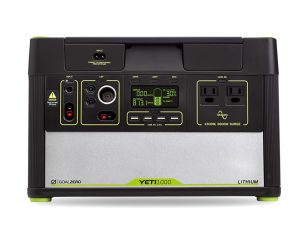 The Goal Zero Yeti 1000 has been ranked by Wirecutter as their top power station for 2020. This powerful pack can run fans, fridges, and air conditioners and has an easy to read screen. However, the one downside to this pack is that it weighs a hefty 40 pounds.
4. Westinghouse iGen160s Portable Power Station
Are you looking for a portable station that doesn't cost as much as the larger watt-hour packs? The Westinghouse iGen160s station is an option. It offers 155Wh, two 120V outlets, two DC outlets, and two USB ports.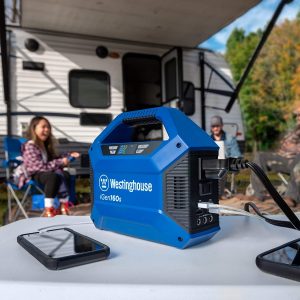 It weighs just under four pounds and has a streamlined design that can tuck into any small space. While its lower watt-hour capabilities won't allow it to power appliances, it can be charged in a variety of ways including solar.
5. The Ultimate Roadside Rescue Assistant
If you need a power pack to do double or even triple duty, The Ultimate Roadside Rescue Assistant has it all.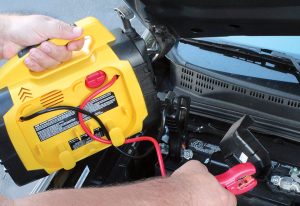 Along with a 140 watt inverter for powering 110 appliances, it also has vehicle jumper cables, air compressor, and a safety light. It does come in at 13 lb. but it is an affordable $160.
5 Portable Shower Packs
These portable shower packs are far beyond the typical solar shower. Some of them even feature on-demand hot water, strong battery-operated pumps, and handles for easier transportation to and from the shower tent.
1. RinseKit Plus Portable Shower
At about the size of a small drink cooler, the RinseKit is an all-in-one system for showering and washing dishes and gear.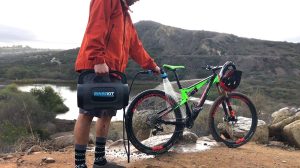 It holds two gallons of water for a five-minute shower. With its handy lid, it can quickly be filled with hot or cold water. When not being used as a shower, it can hold drinks or food.
2. Geyser Systems Portable Shower with Heater
Built from a successful Kickstarter campaign, the Geyser Systems shower is a lightweight shower that uses less than a gallon of water for a 7-minute shower.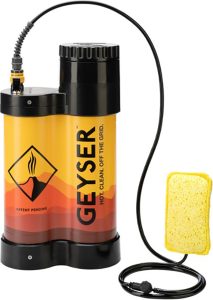 What makes this shower a little different is the use of a replaceable sponge at the end of the hose that eliminates water waste and helps with cleaning.
The built-in heating system heats water up in about half an hour and the LED screen lets you know when the water is hot enough for use. The Geyser can be charged up with a 16-foot 12-volt plug. While this cool, little device only weighs about six pounds, it is pretty pricey at around $325 at REI.
3. HOTTAP V2
One of the newest showers/sink options on the market is the HOTTAP by Joolca. This hot water system connects to any LP tank and provides a 1.6-gallon flower per minute.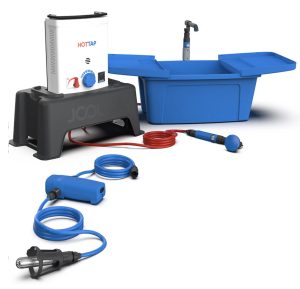 The heating unit comes with a base, LP connectors, shower head, and a handy sink with a faucet to pack it all away. Since this system is essentially a shower and a sink all in one, it does run high at around $400.
4. Basecamp BOSS Shower
If the last two prices make you question even needing hot water, Mr. Heater offers a lower cost option for about $150.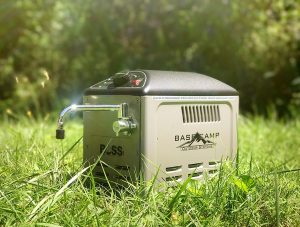 The Basecamp BOSS shower system can be connected to a one-pound propane cylinder for instant hot water. It has a rechargeable battery and only weighs about seven pounds.
5. Nemo Helio Pressure Shower
What's nice about each of these showers is that none of them have to placed into a tree or on top of a vehicle for water pressure.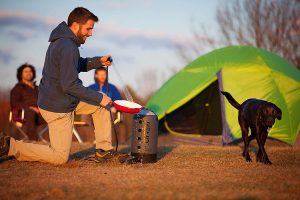 The Nemo Helio takes it one step further and has a handy foot pump rather than a battery-operated pump. The Helio can be filled with hot or cold water and comes with a carrying handle.
SEE ALSO: 6 Top Tips for RVing with dogs
Articles You Might Like:
Looking for a place to stay in SW Missouri? Come on by. Blue Skys RV Park has both short term and long term parking. We are a no frills, affordable, family friendly place to stay. Free Wifi and a laundromat. Whether you are looking for overnight, weekly, or long term, Blue Skys RV Park is the place to be. The owners will go above and beyond to make your stay a pleasant one. Check us out: https://blueskysrvpark.com
Did this article help?  Please leave your comments below.