So I have wanted to put up a flag on my motorhome for 2 1/2 years. I have seen all types of solutions, but for a "larger" Flag it seems I had to invest in some sort of pole, even if I created one out of pvc piping. I ran across this video today and thought, "Oh, snap. That is easy" So I thought I would share it with you today. I have ordered the parts and will be putting it together next week-end.
ENJOY!
UPDATE!!
As I said earlier, I have been wanting to put up flags on my 1997 Bounder since I bought it two years ago. But.. I didn't want to do screw ins, I didn't want to add a pole to my ladder, so what was a girl to do.
That is until I found the video on this page. Here is an Updated photo with the American Flag. Next... I will repeat the project and add a Texas flag (I am a Texas Gal).
Love living and learning!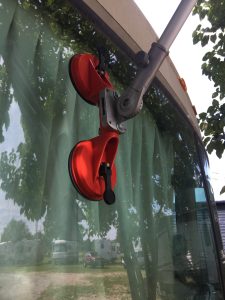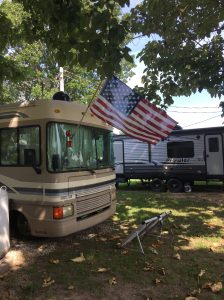 ARTICLES YOU MAY LIKE:
Looking for a place to stay in SW Missouri? Come on by. Blue Skys RV Park has both short term and long term parking. We are a no frills, affordable, family friendly place to stay. Free Wifi and a laundromat. Whether you are looking for overnight, weekly, or long term, Blue Skys RV Park is the place to be. The owners will go above and beyond to make your stay a pleasant one. Check us out: https://blueskysrvpark.com