Looking for a place to stay in SW Missouri?
Come on by.
Blue Skys RV Park has both short term and long term parking. We are a no frills, affordable, family friendly place to stay. Free Wifi and a laundromat. Whether you are looking for overnight, weekly, or long term, Blue Skys RV Park is the place to be. The owners will go above and beyond to make your stay a pleasant one. Check us out: https://blueskysrvpark.com
We are but a short drive to Carthage with so many historic and fun things to do. Here is my top 5 things to do in and around Carthage, Mo. Let us know what you think.
Top Five Things To Do In and Around Carthage, Missouri
Precious Moments Chapel And Grounds
There are many reasons thousands of people choose to visit Precious Moments Chapel and grounds each year. Once here, most agree it is a place set apart. A place where Loving, Caring, and Sharing are celebrated. Many visitors begin their experience at the Visitor Center, especially designed by Precious Moments artist, Samuel J. Butcher, to reflect the warmth of a small English country village of yesteryear. It is the perfect setting to step out of the everyday world and into a world of Precious Moments.
Battle of Carthage State Historic Site
The Battle of Carthage was the earliest full-scale battle of the Civil War, preceding Bull Run by 11 days. Battle of Carthage State Historic Site contains a quiet meadow and the spring that made the area an encampment for both the Union and Confederate troops during the battle. The area is little changed in its appearance since the battle was fought on July 5, 1861. A few minutes off of Interstate 44, the site interprets the battle that set the stage for a decisive showdown a month later at Wilson's Creek.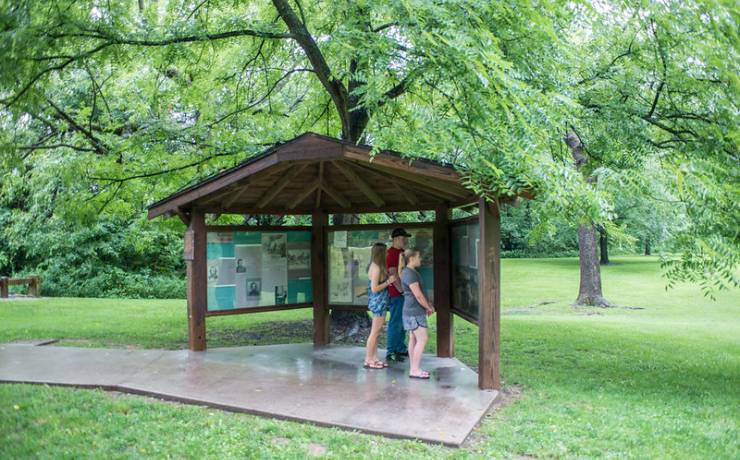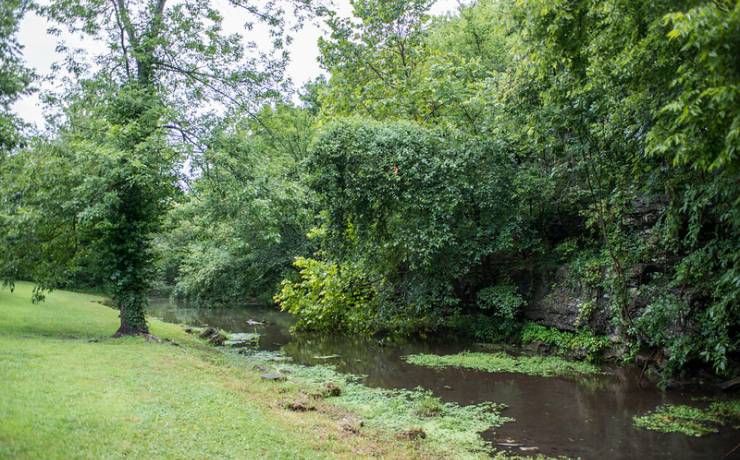 Battle of Carthage Civil War Museum
The Battle of Carthage was the first full-scale land battle of the Civil War. The museum features a wall-sized mural of the Battle of Carthage, as well as a video explaining the Civil War in the Ozark Mountains and numerous artifacts and displays.
Red Oak II, Missouri – A Stroll Through the Past
A couple of miles northeast of Carthage, Missouri and just off Route 66 is Red Oak II – a ghost town, but not really. But, it has authentic old buildings, and an old cemetery, and it looks like a ghost town. Well, it is and it isn't.
Red Oak II was actually the brainchild of artist Lowell Davis who grew up in the "real" Red Oak, Missouri, about 18 miles northwest of the "new" Red Oak II. The original Red Oak, like many other rural agricultural towns across the country, started to fade sometime after World War II, when people began to move to the cities in earnest.
After Davis had left the area for a number of years, he returned in the 1970s to find his home town had become a ghost town.
In 1987, Davis was living on a farm near Carthage that was little more than an empty cornfield. His creative inspiration soon led him to turn his acreage into a tribute to his home town and before long Red Oak II was born. He began to buy homes and businesses from the original townsite and other rural ghost towns, painstakingly moving them to the new site and restoring them to their original "grandeur."
Referred to as the "Norman Rockwell of Rural Art," Davis has a love for the simpler times of the past that are reflected, not only in his "new" town but also in his paintings and sculptures. Of his re-created town, he said: "Red Oak II is a combination of a painting and a sculpture, and it is just made from things that someone else threw away."
Today, each of the buildings in Red Oak II is privately owned. Davis lives in the Belle Starr house, where the infamous lady outlaw grew up, as well as owning a couple of other buildings. The individual owners of the other buildings all maintain their own properties, which include private homes, stores, and museum-type exhibits.
Today, this quaint "ghost town" includes a Phillips 66 station, an old schoolhouse, feed store, diner, town hall, jail, several homes, and more. Two buildings that were important in Davis' life are the blacksmith shop, where his great-grandfather once practiced his trade and the General Store, that was run by Lowell's father and where he learned to sculpt and paint. Both buildings were moved from the original Red Oak townsite. Situated throughout the property are numerous Davis sculptures and old vehicles. Frozen in time, a walk through Red Oak II is a vivid stroll through the past.
Directions to Red Oak II – Take MO-96 east out of Carthage about one mile. Turn north on Road 130 for about two miles to Kafir Road, turn right (west). Red Oak II is about 3/4 mile down the road on the south side.
"The World's Largest Small Electrical Appliance Museum"
Travel Back in Time!
Over 4000 unique, rare electrical appliances from toasters to peculators and razors to waffle irons. Owner, Richard Larrison states, "There are "pinchers" and "perchers," "droppers" and "floppers," "tippers" and "flippers," not to mention the "swingers," "walk-throughs," "flatbeds" and of course, the ever-popular "pop-ups." 
              INSIDE JR's Western Store
              51 Highway 59
              Diamond, MO 64840