Truth be told I have lived in my RV now since 2017. I bought a used 1997 Fleetwood Bounder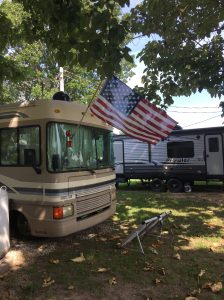 that needed a few minor repairs. So minor that I didn't get to most of them the first year.
I thought about and even looked at RV Surge Protectors for my Bounder, but thought I really didn't need one. Why? Well, I lived in an established rv park that was well maintained and taken care of. Boy was I wrong.
Do you go RVing without a surge protector? If so, you're living on the edge. Here's an obvious reason why you need a RV surge protector:
What RV Surge Protectors Do
RV appliances and electrical systems require a consistent level of voltage to operate safely and effectively. Sometimes that doesn't happen, like when you plug into a defective RV park pedestal, get hit during a lightening storm or downed power lines affect electricity going into your campground. When voltage drops too low or swings too high, your RV appliances, computers, TVs and more can be severely damaged.
Which Kind of RV Surge Protector to Buy?
You can buy two types of protection: RV surge protectors and RV energy management systems (EMS).
RV surge protectors are an entry-level way to protect your rig. They protect your RV from shore power problems at the pedestal and shut down if power supply is dangerously low or high.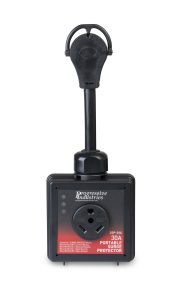 Surge Guard 44280 Portable Surge Protector - 120V, 30A,Black
For more extensive (and higher-priced) protection, a RV energy management system (EMS) will do the above in addition to managing how and when your appliances use power in order to keep from overloading your RV's electrical system.
Choosing the right RV surge protector or EMS product is pretty easy. If you have 50 amp service, buy a surge protector for 50 amp RVs. For RVers with 30 amp service, a 30 amp surge protector is sufficient. Costs vary but start at about $100 and go up from there depending on the level of protection. Considering that RV surge protectors can save your RV from electrical problems and even fires, it's a small price to pay.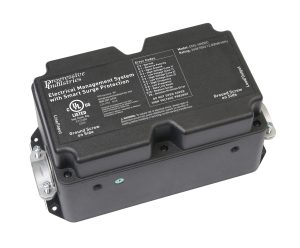 The hard part is deciding if you want to hardwire the surge protector into your RV electricity panel, or purchase a portable unit that gets plugged at the end of your RV power supply cable and into shore power. They both have drawbacks and benefits: hardwiring takes some electrical skills and DIY initiative, but it's practically theft-proof because it goes inside your RV. An exterior RV surge protector-type product that gets plugged into shore power runs the risk of getting stolen unless you purchase an additional product-specific cable lock. You'll have to decide which one is best for your RVing lifestyle.
Which ever RV Surge Protector you choose, choose one. I can guarantee at some point while RVing it will save you money in the long run.
Recommended Reading:
Looking for a place to stay in SW Missouri? Come on by. Blue Skys RV Park has both short term and long term parking. We are a no frills, affordable, family friendly place to stay. Free Wifi and a laundromat. Whether you are looking for overnight, weekly, or long term, Blue Skys RV Park is the place to be. The owners will go above and beyond to make your stay a pleasant one. Check us out: https://blueskysrvpark.com