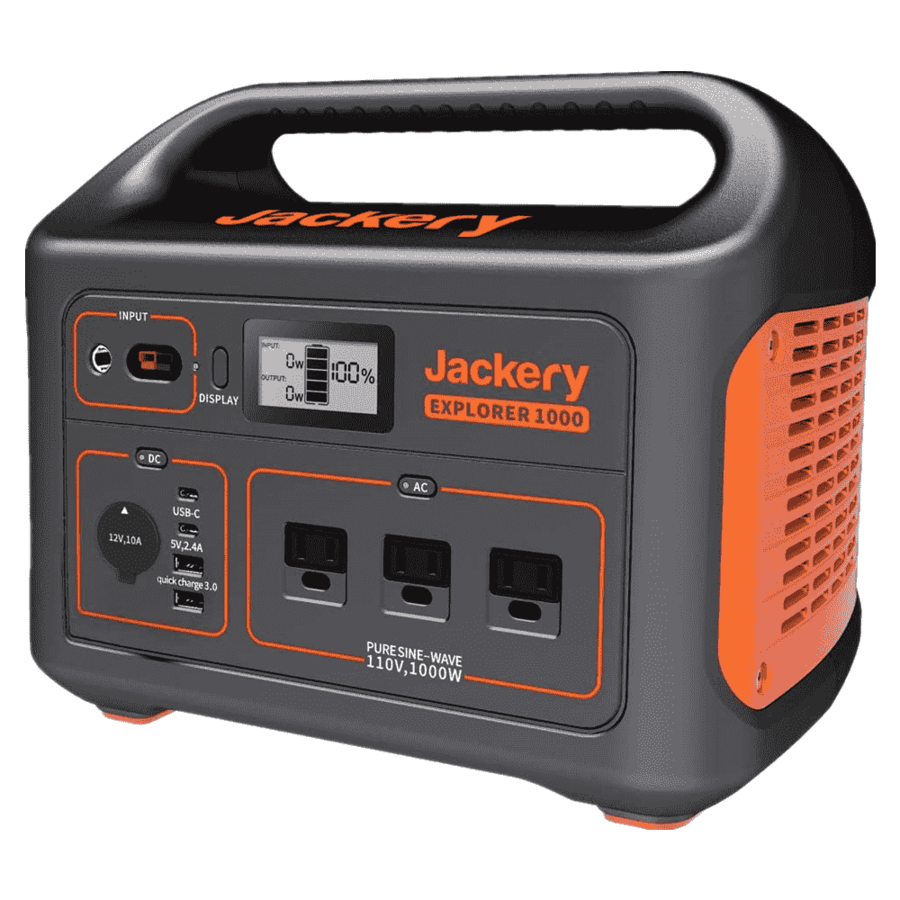 9 Reasons Why If You're An RV'er You Need a Portable Power Station
Whether you are towing a small pop-up camper or driving a 40-foot diesel pusher, you can never have too many options for readily available AC and DC power. Even if your RV is equipped with a bank of house batteries, solar panels, and a generator, having a supplemental power source can be invaluable. Here are 9 reasons that ALL RV owners need a portable power station.
1. So you can stop tripping breakers and blowing fuses
Inevitably, someone will bring a hair dryer on a camping trip. While this certainly goes against the unwritten rules of camping, it happens and will continue to happen. Hair dryers have a nasty habit of blowing fuses and tripping breakers.
In many RVs, these breakers can be hard to find and even harder to get to. If you are renting an RV, you may not even know where to look.
Losing power in the middle of a Yellowstone campground that only offers dry camping is not fun. Calling the rental owner late in the evening so they can walk you through finding the breaker panel isn't either.
As is often the case, the hair dryer is trying to run the same time as another far more important machine, the coffee maker. Now you are scrambling around, uncaffeinated, trying to find the breaker panel in the early morning while trying not to disturb other campers.
It's a bad recipe for tension and stress and can easily be avoided with a portable power station. By using something like the Jackery Explorer 1000 to run that hair dryer or coffee machine, you take the strain off your RV's power and onto a portable power station that can handle it.
2. Your RV doesn't have enough outlets
If your RV is more than a few years old, it likely does not have enough power outlets for today's mobile lifestyle. Older RVs typically have a power outlet at the kitchen counter, the bathroom, and perhaps one or two for the living space.
Those RV designers from a decade or two ago couldn't possibly have imagined the power requirements RVers have today. Even if there were enough outlets, for an RV to be able to provide an entire family's evening power requirement is unlikely. With each family member needing to charge phones, tablets, laptops, watches, flashlights, and more every evening, someone is going to get left off the power grid.
A portable power station can solve this problem. With the ability to charge from four different sources (solar, AC, 12-volt, generator) a Jackery portable power station can charge throughout the day and be ready to provide extra power in the evening when the family needs it. The wide array of charging ports means it will accommodate several devices at one time.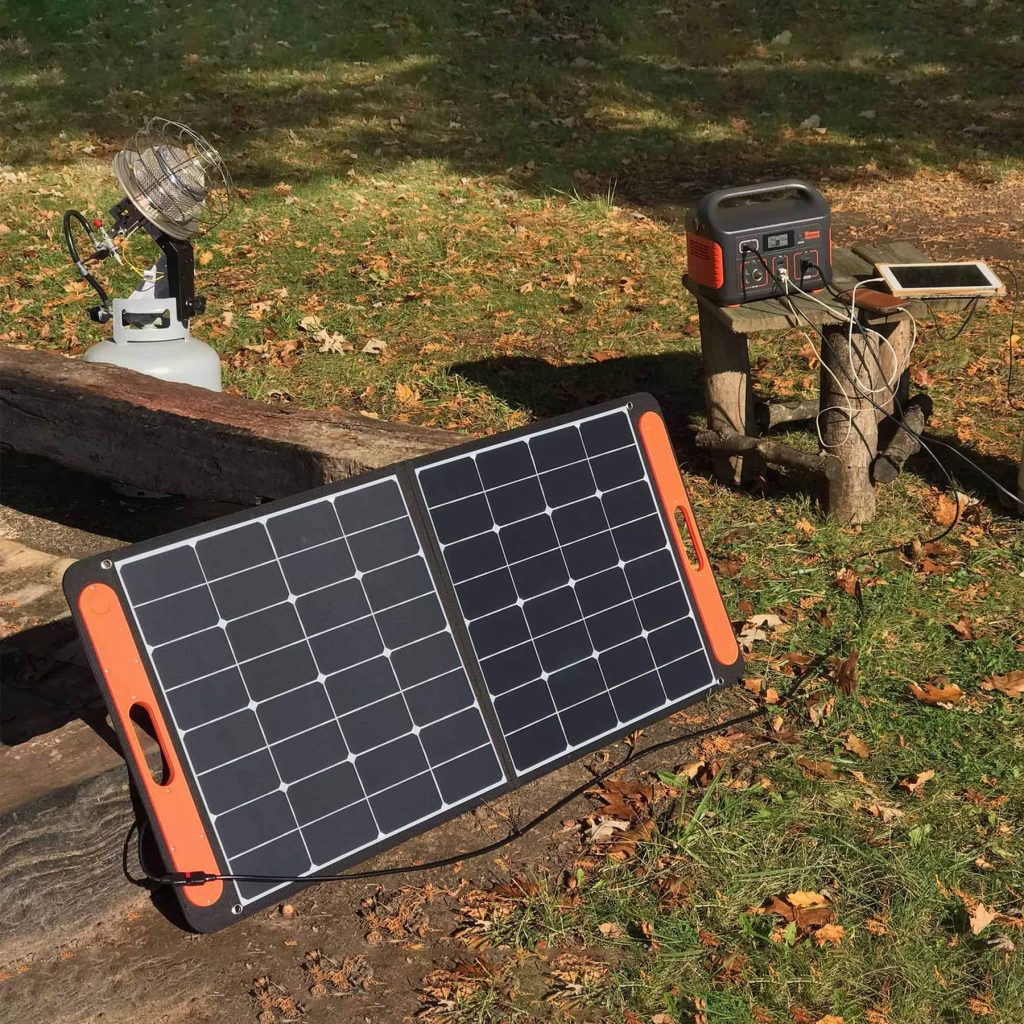 3. It's hot outside and your air conditioner needs help
A lot of RVing takes place in the summer months, for obvious reasons. Many RVs often struggle to get more than one air conditioner unit running, depending on the power available to them.
Whether you are boondocking with solar, running a generator, or plugged into a power stalk, air conditioners need lots of power to get started. You can alleviate some of that with a SoftStart device, but it would be great to have an easy way to shed power also.
With a Jackery portable power station, you can offload some of those functions. Need a couple of quick loads of ice? Plug that portable ice maker into a power station. Once your ice is done you can transfer it to a blender and make something icy and cold.
Blenders draw a decent amount of power, so plug that into the power station as well. The point is, during those peak heat hours when your air conditioner needs all the help it can get, help it with a Jackery portable power station.
4. You don't stay inside all the time
Ultimately, camping and RVing is about getting outside to see the world around you. Sometimes that world is no farther away than your campsite.
Do you really want to prop open a storage bay door and run extension cords and power strips to the patio area? Why not just grab a Jackery portable power station? With USB, USB-C, 12-volt lighter socket, and AC outlets, everyone can plug in without having to worry about extension cords you won't see later when it's dark.
Headed to a potluck or get together at another campsite or the clubhouse? Bring the power with you. At just 6.6 lbs, the Explorer 240 is very manageable to haul for a short distance, and of course, would be a breeze on the seat of the golf cart.
5. You are tired of using so many adapters
One of the byproducts of modern electronics is the move to the "adapter" platform. No longer does everything use a standard 2-prong AC plug to push into the outlet. Most electronics now have a "brick" of some sort that converts that AC power at the AC outlet to something digestible to your USB, USB-C, or other low power variant.
Here again, RVs made in the last few years are better with this, but by and large it's not uncommon for a brick adapter to cover up both spots on an AC wall outlet. A Jackery portable power station like the Explorer series offers varying configurations of direct USB, USB 3.0, and USB-C power. No more brick adapters needed.
6. The neighbors don't want you to wake them with your generator
On some smaller RVs, the only way to get enough power to run that coffee machine or microwave oven is to be plugged in or run the generator. Being off the grid or boondocking doesn't necessarily mean you are alone. If your site does not have power and you have to rely on the generator for electricity, firing it up at 5:00 am so you have the power to make coffee or heat up a danish isn't going to go over well with neighboring campers, even if they are a bit further away than usual.
There is a Jackery portable power station for every RV and budget. Check out the full line and compare the Explorer series models and find the one that is right for you.
7. There are other uses for a portable power station
Unless you are a full-time RVer, you probably don't live in your RV. Buying something that has benefits outside of the RVing realm is a good thing. Portable power stations are one of those. Anywhere that you need additional power where there is none can be a candidate for a Jackery portable power station.
Need some power in your deer stand or hunting shack? Bring a Jackery portable power station. Spending the day at the soccer field? Bring an Explorer series portable power station to power or charge phones, cameras, or a Ninja blender to make those between-game smoothies. Want to run the kid's laptop in the backyard to give them a break from the kitchen table on those nice days? Get a portable power station.
8. Because we tested it and it's amazing
We had the privilege of reviewing and testing the Jackery Explorer 1000 and two of the 100w solar panels. Given the very high ratings on Amazon, my expectations were equally high.
I pay a decent amount of attention to detail, despite what my wife may tell you. I found the box and packaging itself to be commensurate with the expected quality and high acclaim. Manuals and information cards were on high-quality stock, easy to read, and didn't seem to contain any overt language fails.
If you are like me and were curious about Jackery, they were founded by a former Apple battery engineer in Silicon Valley in 2012. With state-of-the-art R&D and manufacturing expertise, Jackery launched the world's first lithium portable power station in 2015. As an industry leader in eco-friendly portable power, Jackery specializes in providing outdoor green power solutions for the explorers.
The Explorer 1000 Portable Power Station
The Explorer 1000 weighs in at 22 lbs and was thoughtfully packaged to be easy to pull out of the box. The 1000 is the big daddy of the Explorer series and included three 110v Pure Sine Wave AC Outputs. The pure sine is very important to today's electronics and must be remembered when comparing with units that have only a Modified Sine Wave. In addition, the 1000 also has:
2 USB-C ports
2 USB ports (1 USB 3.0, 1 USB 5v, 2.4A)
1 round 12v, 10A carport (cigarette lighter)
1 pair of standard ANDERSON Inputs (used for solar and other high power DC)
1 12v DC 8mm charing input
Built-in light
LCD Display panel
Off/on buttons for both AC & DC outlets
Handy neoprene zipper back to hold all cables.
Charging the Explorer 1000
I tested charging the 1000 two different ways. Initially, I set up both 100 watt solar panel kits and charged the Explorer in the hot Texas sun. I achieved about a 20% charge in two hours before the outside temp actually exceeded the operating temperature of the unit itself of 104 degrees.
Note that the 1000 arrived with a 40% charge that made it to 60% in two hours before I carried it out of the heat and into the house. There was no danger of damage occurring, but I didn't want the high temperatures to skew the charging rates. I finished off the charge with the AC cord. I did not test charging from a vehicle or generator.
Note that the manual provides charge times for all sources. It lists a charge time of 17 hours for just one of the solar panels. I had two going, courtesy of the included Solarsaga Parallel Adapter,and estimated that had the world not started melting in the 107 degree Texas sun, it would have been 10 hours or less with both panels.
Charging with the AC outlet in the house is spec'd at 7.5 hours for a full charge. As I was already at 60%, it was considerably less.
Using the Explorer 1000
I really had two specific use cases for the Jackery portable power station. First was the hair dryer test. Having learned the hair dryer versus circuit breaker lesson in Yellowstone, I wanted to see how much power a hairdryer would draw from this device.
I plugged a 1000 watt hair dryer into the Explorer 1000and ran it on high for a full ten minutes exactly. The power station dropped from 100% capacity to 84% capacity.
That's a pretty strong showing. Our Keurig coffee maker tops out at 1500 watts, but only needs to run for about 3 minutes to dispense a hot beverage. A quick cup of coffee later we were still at 80%.
With the two biggest tasks taken out of my simulated day, I turned the Jackery Explorer 1000 over to my wife. Her tests were far less severe than mine, choosing to use and charge a new iPad. She repeated this process twice. Each time the iPad only took 2% of power from the power station. Jackery states that the Explorer 1000 will charge a smartphone about 100 times.
The owner's manual also gives some examples of other use scenarios. A 32" TV for example could run for an estimated 14 hours on a full charge on the Explorer 1000. A typical laptop could be recharged a dozen times, and surprisingly, a small 60W DC powered mini fridge could run for an astounding 66 hours.
Articles That Might Interest You
Looking for a place to stay in SW Missouri? Come on by. Blue Skys RV Park has both short term and long term parking. We are a no frills, affordable, family friendly place to stay. Free Wifi and a laundromat. Whether you are looking for overnight, weekly, or long term, Blue Skys RV Park is the place to be. The owners will go above and beyond to make your stay a pleasant one. Check us out: https://blueskysrvpark.com