Struggling to keep that RV interior clean? You are not alone.
Whether you spend just a few weekends or the entire year in your RV, keeping your home on wheels clean is an unavoidable and never-ending task. RVs tend to pick up a lot of dirt and grime at campgrounds and RV parks. Whether you are a meticulous cleaner or even just a light duster, keeping an RV clean is a never ending task.
Open windows let in dust, dirt is tracked in from outside, and those tiny kitchens and bathrooms have a curious way of gathering large amounts of grime.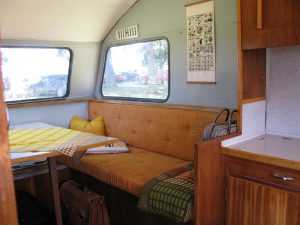 One of the challenges when it comes to cleaning the interior of your RV is that space is at a premium. Most RV storage areas barely have enough room to hide the necessary items like toilet paper, much less an entire supply of cleaners and accessories.
Which is why the number one rule in RV cleaning is to keep it simple.
Look for products that serve more than one purpose, or come in a compact size. Natural cleaning solutions without chemicals can often be used on a variety of surfaces, and you don't have to worry about causing damage to your RV or the environment.
Here are a few more cleaning tips to keep the interior of your RV spick and span using only a few easily-stored supplies.
For the RV floor
1. Compact vacuum cleaner
No matter what type of floor surface your RV has, a good quality, compact vacuum cleaner is a must. Even if your RV comes with one of those fancy central vac systems, a small vacuum is a great addition for those times when you don't want to pull out the long hose, or you are dry camping or boon docking and don't have enough power to run the central vac.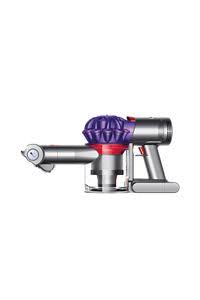 Look for compact, rechargeable vacuums with lots of attachments for multi-purpose use. One of the most popular vacuums for RVs is the Dyson Slim Cordless Vacuum.
2. Wet/dry mop
For quick cleaning of tile, wood, or laminate floors, a wet/dry mop is an indispensable cleaning tool. I invested in a wet/dry mop many years ago for my RV, and use it several times a week in those messy areas like the kitchen and entryway.
A good wet/dry mop will come with both a microfiber wet pad and a microfiber dry pad. The dry pad is great for wiping up small amounts of dirt or dust under furniture. The wet pad can either be dampened with plain water or sprayed with a multi-purpose cleaner. Both pads can be rinsed out and hung to dry, or tossed in the washing machine.
I prefer the Professional Microfiber Mop. It comes with two wet pads, one dry pad, and has a retractable handle for easy storage when not in use.
3. Door mat
One of the best ways to trap dirt before it spreads around the RV floor is by placing a doormat either outside at the bottom of the stairs, or inside at the top of the stairs (or both).
An indoor/outdoor door mat that traps both dirt and moisture, such as the Anderson Water Hog Mat is a great choice.
Cleaning the RV kitchen & bathroom
4. Multi-purpose cleaner
With space at a premium, a good multi-purpose cleaner is probably the most essential RV cleaning product. I use it for everything from wiping counters and cupboard doors, to cleaning spots off the bathroom mirror and dust from the windowsills.
I have tried several different versions of natural multi-purpose cleaning sprays, including a homemade version that smelled too much like vinegar for my taste.
Finally, I stumbled on Mrs. Myers Clean Day multi-purpose cleaner.
I have been using Mrs. Myers brand hand and dish soap for years, and already knew that I liked these earth-friendly, plant-derived products.
Mrs. Myers multi-purpose cleaner comes in nine different essential oil scents (my favorite is lemon verbena). While you can buy it in a ready-to-use container, I prefer the economical concentrated version. The concentrated bottle contains 32 ounces that makes 16 gallons of cleaner when diluted. That's a whole lot of cleaning for only eight bucks.
5. Disinfecting wipes
There comes a time when the multi-purpose spray just won't cut it. That's when I turn to disinfecting wipes. Because sometimes you need to kill germs, whether you need to wipe down the toilet seat or those surfaces where germ-filled hands touch every day.
Walk down the cleaning aisle of the grocery store and you will find a giant selection of disinfecting wipes.
For a quality, affordable, natural choice, I reach for the canister of Seventh Generation brand wipes.
Not only do I like this product, but I love the fact these wipes are available in most major grocery store chains.
6. Toilet bowl cleaner
Did you know that you can damage your RV toilet by cleaning it with harsh chemicals? An RV toilet contains rubber seals and plastic gaskets that keep the toilet in proper working order. If you use products with a high concentration of bleach or abrasives you can ruin these critical parts.
How do I know this? Well, one day our toilet bowl stopped holding water. No, we didn't have a leak. What we had was a dried out seal around the toilet ball. In doing research online about how to replace the seal, I came across a bit of information on traditional toilet cleaners drying out the seal and causing it to no longer hold water in the bowl. Oops.
So now we have a new RV ball seal, and I switched to a gentle natural toilet cleaner specially formulated for RV toilets.
It's called Unique Natural Products RV Toilet Bowl Cleaner. You can find it in most big stores like Walmart, True Value, Ace Hardware, and Natural Grocers.
7. Microfiber cloths
When it comes to cleaning, these small unassuming cloths are pretty amazing. They are soft, non-abrasive, super absorbent, and clean a wide variety of surfaces without leaving behind streaks or lint.
I use my microfiber cloths for wiping down ceiling fans, the front of the fridge, light fixtures, cupboard doors, and so much more. When they get dirty I either hand wash them and hang to dry, or throw them in the washing machine.
Microfiber cloths are inexpensive to buy and available at many stores, both brick-and-mortar and online from Amazon.
Keeping the interior of your RV clean doesn't have to be complicated, time-consuming, or involve harsh chemicals. With a few simple products, you can clean floors, surfaces, and even those dirty areas like the kitchen and bathroom quickly and with a minimal amount of effort.
RELATED ARTICLES:
Looking for a place to stay in SW Missouri? Come on by. Blue Skys RV Park has both short term and long term parking. We are a no frills, affordable, family friendly place to stay. Free Wifi and a laundromat. Whether you are looking for overnight, weekly, or long term, Blue Skys RV Park is the place to be. The owners will go above and beyond to make your stay a pleasant one. Check us out: https://blueskysrvpark.com