When I first got the idea of using solar panels with my 1997 Fleetwood Bounder, it was overwhelming the information, styles, and prices of solar panels and kits. How much do I need? How much does it cost? Will I actually be saving money in the long run?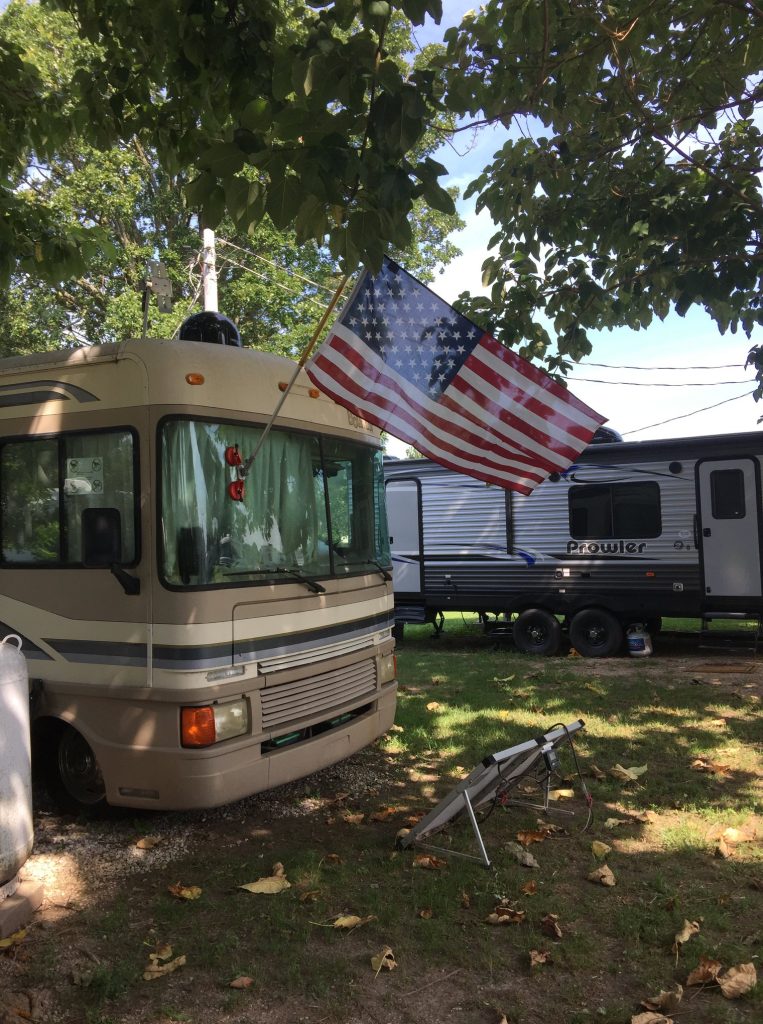 Finding the best RV solar panels, kits and installing one in your vehicle is the key to ensuring that you can extend and enjoy your trip as long as possible. Note that one great thing about owning a recreational vehicle is that it provides you with the freedom to hit the road and travel without the need to stop.
Top 10 RV Solar Panels & Kits
You will notice that anywhere you go can be considered as your home. Your traveling experience will also be limitless. It allows you to enjoy the kind of adventure and travel that you are dreaming of. If you are an RV owner, then take note that solar power complements your lifestyle and travel needs perfectly.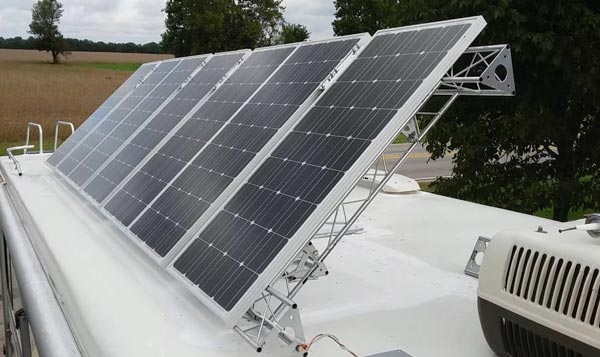 It is because it is one of the most eco-friendly, quietest and cleanest power source. Outfitting your vehicle with a solar panel makes it possible for you to enjoy the benefits of this free source of power. In fact, a good and reliable RV solar power installation gives you the opportunity of charging your batteries independently.
In addition, it is beneficial because aside from having a long lifespan, it also requires the least maintenance. The components of RV solar systems are also readily and easily available and accessible. You will get the chance to enjoy a free power source without the pollution, odor, and noise.
If you are seriously considering buying RV solar panel kits then the reviews of this 10 products might be of great help to you, especially in formulating a good buying decision.
1. Renogy 100-watt 12-volt Mono-crystalline Solar Starter Kit
If what you are in search of is a highly reliable solar 12-volt battery charger, then this 100-watt mono-crystalline solar starter kit from Renogy should be one of your choices. I usually see this product being incorporated in a good Renogy flexible solar panel review considering its effectiveness and high satisfaction rating.
This is an excellent choice, especially if you aim to choose the right RV solar panels. It is mainly because of its ability to supply a generous 100-watt power. Such power is adequate enough in running a few devices simultaneously through its 12-volt battery charging.
One benefit I enjoy about this choice is that it is capable of supplying additional charging, thanks to the fact that you can wire it into a series together with other solar panels. It is smartly and nicely designed, allowing it to withstand the snow, wind, and a lot of other harsh elements.
Another impressive fact about this kit is that the solar panel is constructed out of strong and sturdy materials as well as high-conversion efficiency modules. I also noticed that the panels are constructed from high-transparency and anti-reflective glass while also boasting of their improved stiffness.
With its high resistance to impact, it is no longer surprising to see it being referred to as one of the strongest solar panels today. One problem I noticed, though, is that this solar panel is heavier in comparison to other flexible solar panels.
Pros
Can supply a generous 100-watt power
Runs several devices at once
Can provide additional charging as you can wire or link it to other panels
Can withstand harsh elements, including the wind and snow
Constructed from high-conversion efficiency modules
Cons
Heavier than other flexible solar panels
2. WindyNation 100-watt Solar Panel
Another highly reliable solar panel for RV battery charging that you can use is the WindyNation 100-watt solar panel. I noticed that this excellent starter solar panel kit is offered at an affordable price while supplying you with the things needed to harness the clean and free energy provided by the sun.
I also realized that it works as a highly efficient and reliable solution for backup power or off-grid situations. Falling under the polycrystalline solar panel category, expect this product to deliver a power of up to 100 watts. I am pleased to say that it already comes equipped with a P20L charge controller, which is known for its quality and versatility.
With this controller, you can easily keep track of amperage, load draw, voltage, amp-hours, and temperature when charging. The solar panel also takes pride in its easy to use user settings. With such feature, fine-tuning the charging and raising the efficiency using customized values will be much easier.
It is a good choice if you are still a beginner in using solar energy within your vehicle. It also improves your flexibility while giving you the opportunity to expand the installation of additional panels in the future. It is also versatile since it is useful not only in recreational vehicles but also in homes, for remote and backup power, and in cabins and boats.
One possible drawback, though, is that the quality of the panel is lesser in comparison to other high-priced ones.
Pros
Works efficiently as a backup power and for off-grid situations
Can supply a good 100-watt power
Features a charge controller designed to help you control almost everything
Allows expansion as you can install additional panels in the future
Highly versatile as it also works in homes, cabins, and boats
Cons
The quality of the panels is not as good as other expensive units
3. HQST 12-volt 100-watt Polycrystalline Solar Panel
Some of the most reliable portable solar panels for RV reviews also recommend this third product I will recommend, the HQST 12-volt 100-watt polycrystalline solar panel. I find it highly dependable as the panel has 36 highly efficient polycrystalline solar cells while also having a tempered glass as protection.
It is a good component if you are planning to create an off-grid solar power system. The solar panel is also constructed in such a way that it can resist wind loads and heavy snow. The back of it has a waterproof junction box, which means that it can also handle the harsh and heavy rains.
With the MC4 leads integrated into the panel, you will also find it easy to plug and use. It is also one of the easiest to install solar panels. Whether you are planning to install it using the ground-mounted or the off-grid rooftop approach, I can still assure you of the ease of the whole installation process.
It even has pre-drilled holes that you can find at the back that further promote ease and rapidness when it comes to mounting and securing it. I like the versatility of the solar panel, too, as it works for both rural and residential purposes. You will also notice its compatibility not only in RVs but also in boats, caravans, motorhomes, and trailers.
Furthermore, it makes use of a frame constructed from a corrosion-resistant aluminum material, allowing it to last long despite being used for a long time outdoors. This solar panel is a bit heavy, though, which is one of the most common complaints of some of its users.
Pros
Highly dependable with its many efficient polycrystalline solar cells
High-quality and solid construction, allowing it to resist heavy snow and wind
Easy to use, plug, and install
Mounting and securing the panel is quick and easy
Features a corrosion-resistant aluminum frame
4. Renogy 12-volt, 200-watt Mono-crystalline Solar Starter Kit 
Another of the most portable solar power units that you can choose from is the Renogy 12-volt 200-watt Mono-crystalline solar starter kit. It is specifically designed for beginners to a solar panel. I find it effective for off-grid applications. This means that it works well for recreational vehicles, cabins, sheds, boats, and trailers.
One remarkable benefit I wish to highlight in this starter kit is its ability to produce power in a quiet manner. It also promotes grid independence. It has most of the tools that you need to make a new solar system work, including the solar panels, themselves, the charge controller, adaptor kit, connectors, Z-brackets, and tray cable.
The included 30A PWM charge controller in the kit can be expected to help in expanding your solar system to a max of 400 watts. It also has a negative grounding controller, which offers protection against battery reversal, short circuit, overcharging, and overloading.
With that, I can safely say that it promotes a high level of safety and a broad off-grid application. It is also possible to use it on a vehicle with a battery negative found on its chassis. Installing this solar panel kit is also easy. In fact, you can complete the installation in just a short period of time.
However, it is lacking in terms of installation instructions but considering the fact that it is easy to install, this is just a very minor drawback.
Pros
Effective for off-grid applications
Can produce power quietly while promoting grid independence
Contains almost everything that you need to make the solar system work
Can be expanded up to 400 watts, thanks to its 30A PWM charge controller
Offers protection from certain issues, short circuit, overcharging, and overloading
Cons
Lacks installation instructions
5. Renogy 200-watt 12-volts Mono-crystalline Solar RV and Off-Grid Kit
You can also choose this next mono-crystalline solar RV and off-grid kit offered by Renogy. What I am so pleased with in this kit is that it is genuinely capable of recharging your RV's batteries, making it possible for you to have fun watching the great outdoors – all that is possible without any additional noise.
With the solar panels from this kit, you can operate your onboard electronics and equipment without the need for a power hookup. What is even better about this solar power kit is that it is designed in such a way that it can specifically meet the requirements of RV users.
I find the charge controller of this Renogy solar power kit beneficial because it promotes the quick and safe charging of the battery regardless of the condition. It can also supply up to 200 watts of power, which means that you can really maximize its use. Such power allows you to make the most out of the system.
I find its 18.4 percent solar cell efficiency very favorable, too, as it already gives users the specific level of efficiency they need. The controller is also known for being negative grounding. With that, expect it to be compatible with safe and broad off-grid applications. I am also quite sure of the ability of these solar panels to last for a long time.
It can even withstand harsh elements including heavy snow and winds because of its aluminum frame, which is not only ideal for outdoor use but is also sturdy and corrosion-resistant, thereby boosting its durability.
However, some users also find this choice for portable solar power kits camping pricey and expensive.
Pros
Recharges battery without extra noise
Promotes the quick and safe charging of a battery
Supplies up to 200 watts of power
Compatible with safe and broad off-grid applications
The aluminum frame included in the panel is corrosion-resistant and sturdy
6. ACOPOWER 100-watt Foldable Solar Panel Kit
The ACOPOWER 100-watt foldable solar panel kit is also one great choice for your RV's solar system. I noticed that it is a vital component of a system, especially for those who choose to go the off-grid solar system route. One positive thing I like in this solar panel kit is that its panels are compact.
This means that you will not encounter any problems managing them and setting them up. I also find it useful in a wide range of applications. Whether you have plans to camp or enjoy a beach trip, the panel can help set up your preferred off-grid system. You can also use it for marine applications, dry camping, and any other off-grid purposes.
It is also designed in such a way that it serves a generator-ready or a battery-ready kit. With the MC4 connectors provided by the kit, it is also possible for you to connect an additional solar panel with a maximum power supply of 40 watts. This promotes ease in charging the battery faster.
I am also pleased with the easy setup process of this solar panel kit. It is portable, making it easy to manage while having its own pre-installed stands. With that in mind, there is no need for you to separate its mounting brackets. It also has its own protective suitcase, so bringing it anywhere and setting it up quickly is possible.
It features a solid and lightweight aluminum frame, too. However, the included setup instructions are quite vague and difficult to understand. Still, most users agree that it provides a great value overall.
Pros
Comes with compact solar panels
Hassle-free setup and installation
Versatile as you will find it useful in a wide range of applications
Portable and easy to manage
Features a protective suitcase
Cons
Vague instructions for installation
7. Renogy 12-volt 100-watt Flexible Mono-crystalline Solar Panel
I also highly advise using this flexible mono-crystalline solar panel from Renogy. It has a max of 248-degree flex range, which makes it capable of handling various applications, especially in those instances when the standard solar panels are not that convenient to mount, like when installing it on an airstream's curved roof.
Aside from its good flex range, I am also pleased with the solar panel's high light transmittance as well as its long service life. I can also guarantee most users of its excellent performance every day because it has self-cleaning and anti-fouling abilities. I am also satisfied with the lightness of this solar panel.
It is lightweight and thin, which promotes ease when it comes to installing it on curved surfaces. You can also use it in supplying power to a wide range of applications and onboard electronics. I am also impressed with the advanced polymer materials used in the panels as such also improve its lightness.
It also works well if you plan on doing a stealthy setup for your solar system. It is because it is thinner in comparison to rigid systems. Furthermore, this solar panel is solid and strong enough as such makes it capable of withstanding snow loads and extreme winds.
The edges of the solar panels are a bit sharp, though, so it is advisable to wear gloves when handling them.
Pros
Can handle various applications with its 248-degree flex range
Long service life guaranteed
Lightweight and thin, making it easy to install
Thinner than rigid systems, making it perfect for stealthy setups
Strong and solid
8. ALLPOWERS 100-watt Solar Panel
With its more than 20 percent efficiency, I am pretty sure that this 100-watt solar panel from ALLPOWERS can offer a high level of satisfaction to those who plan to use a solar system for their recreational vehicles. It provides more efficiency and power even if it is just as large as traditional models.
One impressive fact about this model is its durability. I find it durable and strong because the solar panel is constructed out of water-resistant and semi-flexible materials. In addition, it also features a waterproof and sealed junction box. With that, I am pretty sure that this panel is long-lasting.
The solar panel is also capable of supplying the specific amount of power needed by most potential users of solar systems. That is possible even with the lightweight construction of the unit. It is lightweight enough that transporting, hanging, and removing it is easy.
I also find it easy to install because it does not only have a unique and frameless design but also metal-reinforced mounting holes. Another major benefit of the unit is its bendability. You can curve and mount it on a boat, tent, car, trailer, truck, RV, or any other uneven and irregular surfaces with ease.
One flaw, though, comes on the wire assembly that you can find on top. It is because the wires appear in opposite directions, so routing them might be a bit challenging.
Pros
Highly efficient and powerful than traditional models
Guaranteed to be strong and durable
Features a waterproof and sealed junction box for further durability
Easy to install and mount
Bendable, making it useful in extensive applications
Cons
The wires are a bit difficult to route
9. Newpowa 2-piece 100-watt Polycrystalline Solar Panel
I am also glad to include the Newpowa 2-piece 100-watt polycrystalline solar panel in this review. It is primarily because I found out that it is one of the excellent performances in the solar panel industry. It makes use of high-performance cells encapsulated in EVA.
One thing that impressed me about this solar panel is that it has an exceptional durability. I think it is due to the fact that the solar panels make use of heavy-duty anodized aluminum for their frame. With that, it is possible for you to enjoy exceptional rigidity.
The solar panels also come in full-size, which means that they can really handle even heavy applications and uses. The solar panel installation process is also quick and easy. It does not involve complicated steps. It works efficiently if you want to keep the battery of your RV charged for quite a long time.
Another thing I am pleased with is the solid and sturdy frame of the solar panel. You can also easily hook it up and use. It also features a rugged and sturdy design that can withstand snow load, hail, and high wind pressure. As for the flaw, I noticed that its junction box appears to be of subpar quality.
Pros
Uses high-performance cells designed to improve the solar panel's performance
Highly durable and heavy-duty
Can handle heavy applications and uses
The quick and easy installation process
Capable of withstanding snow load, hail, and high wind pressure
Cons
Subpar quality junction box
10. Go Power! GP-PSK-120 120-watt Solar Kit
Lastly, I want to recommend the Go Power! GP-PSK-120 solar power kit. This specific kit provides an easy and quick solution if you want to charge your batteries using solar power or the sun. I think that it is a great option since I figured out that most of its users give it a stamp of approval because of its good performance.
It supplies around 120 watts of power. The kit is beneficial because it holds most of the things that you need in setting it up and charging your battery up to a hundred percent. I am also pleased to say that the kit is already equipped with a solar controller, which you can use in keeping track of the system.
It also has cables that also have battery clamps that you can use to connect to your batteries with ease. One more impressive thing about this unit is its portability as it means managing it will be easy. You can quickly and easily set it up within just a few minutes, thereby promoting ease in charging your batteries.
It has its own carrying case, too, which is a good thing if you plan to bring it to other places. However, despite its excellent performance, it is also one of the priciest options, which is a drawback.
Pros
Provides a quick and easy solution when planning to charge batteries using solar power
Equipped with a solar controller
Can supply up to 120-watts of power
Easy to connect to the batteries – thanks to the built-in cables and battery clamps
Comes with a carrying case
What to Look for When Buying an RV Solar Panel
With the extreme popularity of RV solar panels for travel trailers and RVs, it is no longer surprising to see people installing one or a couple of these units into their vehicle. With the aid of this solution, RV owners get the chance to enjoy the amenities of home. Here are the factors that you have to consider in your search for good solar panels:
Efficiency – Despite all the amenities and facilities that you can have onboard your RV, remember that its space is still less spacious if you compare it to your home. With that in mind, you need a highly efficient solar panel – one that makes use of only a little space while still maximizing its output.
Also, remember that the efficiency in solar panels for camping trailer and RVs can be defined as the specific amount of solar energy converted to electricity. Such amount is usually reflected in the form of a percentage.
When searching for the best solar panels for RV use, make sure that the electrical output is sufficient enough for the onboard electronics in your RV. You will instantly know that the solar panel is highly efficient if your RV will receive enough voltage. When identifying the efficiency of a solar panel kit, check its type.
Note that solar panels come in three different types with each one having varying efficiency based on its make. One type is the amorphous solar panel. It is the most inexpensive type but take note that it is also the poorest in terms of efficiency.
You can also pick the polycrystalline type with an efficiency rating measured at around 16 percent. This specific type produces two times the current created by the amorphous type. The third type is the mono-crystalline, which has an efficiency rating of more than 16 percent. Such efficiency is a bit higher than polycrystalline.
Wattage cells – Your chosen solar panel's wattage can be defined as the current that the solar panels are capable of outputting. You can determine such wattage based on the current that every cell within the panel can output.
It is actually beneficial to have an RV solar panel with a higher wattage as it also means that it can produce current capable of supporting numerous electrical activities. A higher wattage can also guarantee a higher efficiency rating each time you connect your electronics and appliances to the source of current.
However, prior to choosing to buy high-watt solar panels, make sure that this is the voltage that you need exactly. It is mainly because these solar panels are often expensive. It would be best to choose a small solar panel at first. You can just upgrade into a 2-panel set later on.
Portability – Another contributing factor in your final decision is the portability of the unit. Remember that it is crucial to invest in the most portable solar panels for RV. It is mainly because you will need to carry it to your RV from time to time.
It is also advisable to pick portable RV solar panel kits as these promote ease of installation. If unfortunately, you have chosen a solar panel kit, which is a bit big, then a wise tip is to opt for one that is already equipped with cables as such promotes ease of movement.
Reliability especially when you are on the road – One of the major advantages of installing an RV solar panel is that it is capable of offering a more reliable and convenient source of electricity once you start driving on the road. Some of the systems offered today are, fortunately, inexpensive.
They are also capable of providing more than enough power designed to recharge the battery of your RV. You can also find more robust systems capable of providing a more reliable source of power for radios, lights, televisions, and appliances.
Once you are prepared to invest in a solar panel, take into consideration its reliability and efficiency. You should then consider starting with a small set with two panels. Avoid making the mistakes committed by RV owners who tend to overestimate their needs by investing in a larger solar system.
It would be best to start small at first. Note that if you start small then you always have the option of expanding once you figure out your specific energy requirements later on.
Geographical location – Another thing to keep in mind is that your present geographical location has a say on the specific type of solar panel kit you specifically need.
In case you encounter sunlight problems because of your current location, ensure that you choose a highly efficient solar panel kit. A highly efficient solar panel is a major help in dealing with sunlight issues.
Durability – While it is true that solar panels are prone to aging and wearing out, make sure to buy one, which is highly durable so it will last for a long time. Avoid going for cheap and low-quality ones as these might only serve you for the short term.
They tend to wear out too soon, causing you to buy a new one frequently. This is not actually helpful if you are planning to save money.
RELATED ARTICLES:
Looking for a place to stay in SW Missouri? Come on by. Blue Skys RV Park has both short term and long term parking. We are a no frills, affordable, family friendly place to stay. Free Wifi and a laundromat. Whether you are looking for overnight, weekly, or long term, Blue Skys RV Park is the place to be. The owners will go above and beyond to make your stay a pleasant one. Check us out: https://blueskysrvpark.com