When it comes to choosing a travel trailer you will use in the cold weather, it's obviously important to go for a recreational vehicle with the best insulation.
Top 5 Best Highly Insulated Travel Trailers
While in our previous post where we focused on the Top 5 Best 4 Season Travel Trailers Under 6,000 lbs GVWR, for this post we'll be specifically be listing travel trailers with the best insulation. to insulation. Read on, to discover the top 5 best highly insulated travel trailers for use in Alaska and Canada.
What puts an RV on the list: Insulation plays an important part in choosing these travel trailers, but we've also considered those with respectable reviews, a surplus of floorplans that provide you with a variety of layouts that ensure you find something right for you.
The Top 5 Best Highly Insulated Travel Trailers
Northwood Arctic Fox Travel Trailer
Lance Lance Travel Trailer
Livin Lite Camplite Travel Trailer
Forest River Rockwood Windjammer Travel Trailer
                    Made For Cold Campers!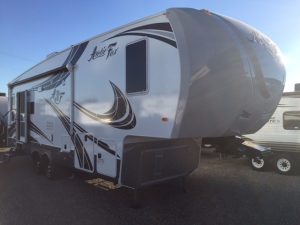 | No. of Floorplans | Unloaded Weight | Sleeps | Length |
| --- | --- | --- | --- |
| 5 | 4678-8438 lbs | 4-9 | 23-35 feet |
RVING Planet recommends the Livin Lite Camplite travel trailer: The Northwood series travel trailers are well known for their speciality in providing some of the best insulation in a travel trailer. It has 5 floorplans, with length ranging from a cozy 23 footer Arctic Fox 22G to a spacious 35 feet Arctic Fox 31D that can sleep up to 9 people. Its gross weights are mostly upwards of 7,000 lbs.
In terms of features, the Arctic fox checks all boxes and goes above and beyond what we expect from good insulated campers. For instance, it has a thermostat, fireplace, block foam insulation, R-15 reflective surface on the rooftop and optional dual pane windows. You'll also enjoy the luxury it has to offer from a 19-inch LED TV to a full bath tub with retractable screen enclosure, among others!
Key Features:
5 different floor plans available
R-15 reflective foil insulation in roof
High density block foam insulation
Fireplace
LED interior and exterior lighting
Solid surface kitchen countertops
#2. Oliver Four Season Travel Trailer
Cozy, Comfortable, Considerable!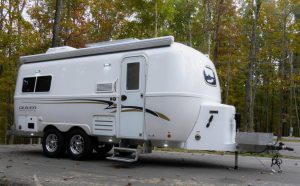 Why we recommend the Livin Lite Camplite travel trailer: As the name suggests, it's all about keeping it lightweight and offering the best-in class features with the camplite. You can easily tow it with the most basic of vehicles as all of its floorplans are under 5,000 lbs GVWR, with a few even lighter than that. We recommend taking a look at the Camplite CL23RKS and the Camplite CL16DBS floorplans.
It may not be advertised as an insulated travel trailer, but the Camplite is one of the best you'll ever see! It has all of the expected features (fireplace and dual pane windows) and is insulated from all sides using fiberglass, block foam and composite material. While it's great for Alaska, you'll need to opt for its upgrade to Canadian RV standards to use it there.
Key Features:
10 different floor plans available
Charging center with USB ports
Insulated walls, roof and cap
Slideout topper awning
Pre-wired solar
Auto-adjusting brakes with EasyLube® axles
Video Overview:
#5. Forest River Rockwood Windjammer Travel Trailer
Forest River's Answer To Highly Insulated Campers!
Why we recommend Forest River Rockwood Windjammer travel trailer: If you've been towing for a while and know your way over some of the longer travel trailers out there, then the Rockwood Windjammer by Forest River RVs are a great choice they're spacious, which means more room for cargo, people and insulation. Some great floorplans worth checking out are the Rockwood Windjammer 2715V and the Rockwood Windjammer 3029V.
With the exception of an optional thermopane windows, the Rockwood Windjammer has it all: construction which focuses on insulation, durability and fantastic features, and a whole lot of options if you ever plan on upgrading your RV's features. All of this has made us confident that the Rockwood Windjammer is at least worth taking a look at, if not having it in your shortlist of best insulated campers.
Key Features:
12 different floor plans available
Screwed and glued cabinetry
Floor ducted furnace
LED 12 Volt interior lighting
Deluxe interior window treatment
Insulation factors R-7 side wall, R-12 floor and R-14 roof
Video Overview:
BEFORE you head to a dealer to see these trailers, download your FREE RV Buyers Worksheet for help keeping track of:
The feature must-haves that are important to you and your family
Which brands or manufacturers you like
Budgeting tools including a payment calculator resource
Multiple well spaced pages with room for lots of your notes
BONUS Resources: Trade-in values, tow vehicle ratings, and finance options
RELATED ARTICLES:
Looking for a place to stay in SW Missouri? Come on by. Blue Skys RV Park has both short term and long term parking. We are a no frills, affordable, family friendly place to stay. Free Wifi and a laundromat. Whether you are looking for overnight, weekly, or long term, Blue Skys RV Park is the place to be. The owners will go above and beyond to make your stay a pleasant one. Check us out: https://blueskysrvpark.com