Your RV's tanks need to be in proper working order for you to be able to enjoy camping to its fullest, especially the freshwater system. The freshwater system on your RV not only needs to work right, but it needs to be clean, too. Without a clean freshwater system, you're asking for a trip filled with illness. Like any other part of your RV, your freshwater system needs to be cleaned.
Each year, usually in the spring, when you get your RV out of storage, you should sanitize the freshwater system. If you are a FULL TIME RVer, you might want to sanitize your freshwater system twice a year. It might sound like a hassle, but the last thing you want to do is have unhealthy water in your freshwater tank due to lack of sanitation.
How to Sanitize Your RV Fresh Water Tank in 5 Easy Steps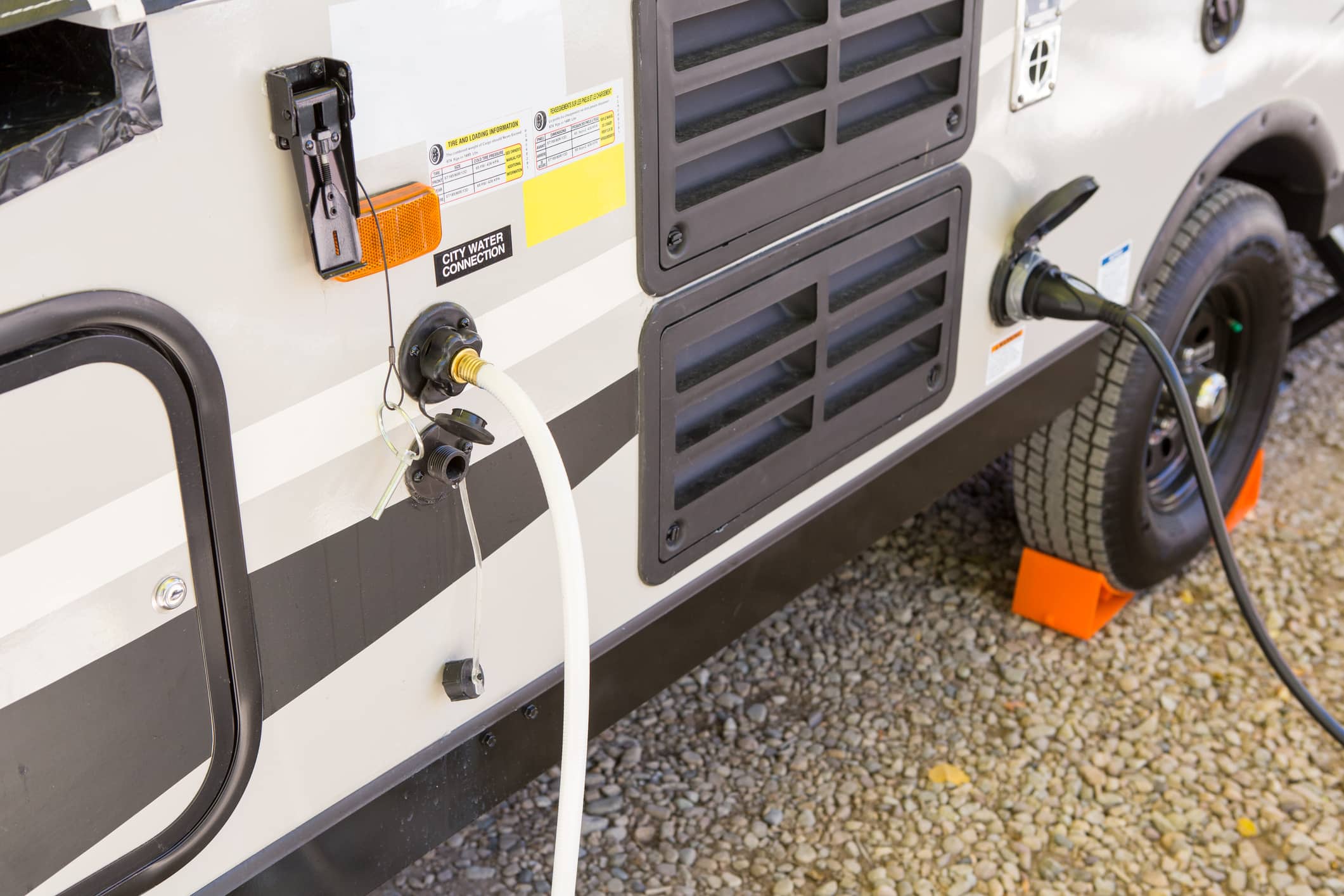 Sanitizing the tank will ensure that you stay happy and healthy. It's honestly not that hard to do. While you can always pay a professional to do it, there's really no need. It doesn't require any special tools. All you need is a measuring cup, a funnel, and some household bleach.
From there all you need to do is follow a few simple steps. Here's they are:
Step 1: Turn Off Your Water Heater and Drain Your Freshwater System
You don't want to drain the freshwater system with the water heater on. This will damage the water heater. You need to turn it off and let it cool before you drain the water. It's not a bad idea to have the water pump on to ensure you can get all of the water out of the system before you start sanitizing.
Step 2: Calculate the Amount of Bleach You'll Need and Add It to the Freshwater Tank
You'll need 1/4 cup of bleach for every 16 gallons of water in your freshwater tank. This also equates to one ounce per eight gallons. Make the calculations based on those ratios. That means. If you have a 20-gallon freshwater tank on your RV, you'd need 2.5 ounces of bleach to sanitize your system.
Don't add the bleach straight to your freshwater tank. You should dilute it first. Take that amount of bleach you've calculated for your specific RV and add it to at least a gallon of water. Then pour this water-bleach mixture into the freshwater tank with the help of a funnel.
Step 3: Fill the Freshwater Tank with Potable Water and Pump It Through The System
The next step is to fill the freshwater tank with clean, potable water. Make sure to fill it all the way. This will ensure that the tank and the rest of the system get fully sanitized.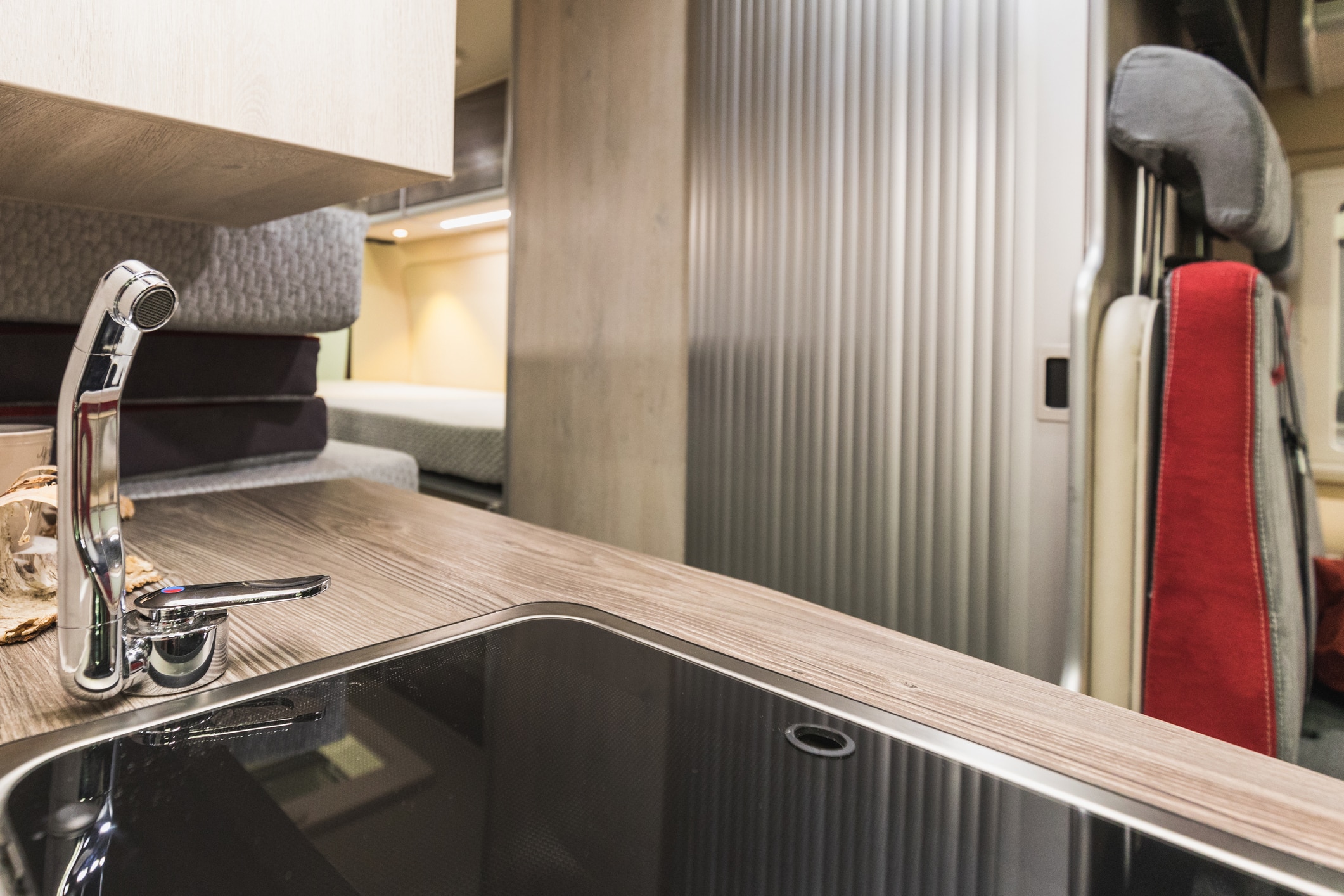 You also need to make sure the water with the bleach solution gets all the way through the system. Turn on all the faucets to ensure the bleach water makes its way to every part of your freshwater system. Once the water is circulating through, you can turn them off again.
RELATED: The Solid Truth About Number Two
Step 4: Let The Water Sit For 12 Hours
The solution will take time to really sanitize your system well. You can't just run some bleach-water through your freshwater system in a few minutes and call it good. I suggest letting the solution sit in your freshwater system overnight. It's a great way to make sure it gets the job done.
RELATED: DIY RV Water Heater Basics
Step 5: Drain the Tank and Then Flush the System
After at least 12 hours of letting the RV sit with the bleach solution in the freshwater system, you need to drain all the water out again. Then refill it with fresh water and start circulating that water through the system with your water pump. Open all the faucets and flush the system until you can no longer smell the bleach.
It may take a few times for you to get all of the bleach smell out. Don't worry about doing this step multiple times. I'd suggest continuing to flush the system even after the bleach smell is gone. This will ensure you eliminate all of the sanitizing chemicals from the system.
Once that's all done, I'd suggest replacing any water filters on your rig. After you've replaced those filters and switched your water heater back on, you should be ready for another full year of camping!
---
What's been your experience sanitizing your RV's freshwater system? Leave a comment below!
ARTICLES THAT MIGHT INTEREST YOU:
Looking for a place to stay in SW Missouri? Come on by. Blue Skys RV Park has both short term and long term parking. We are a no frills, affordable, family friendly place to stay. Free Wifi and a laundromat. Whether you are looking for overnight, weekly, or long term, Blue Skys RV Park is the place to be. The owners will go above and beyond to make your stay a pleasant one. Check us out: https://blueskysrvpark.com