This winter has been brutally cold. I have been living full time in my 1997 Bounder since 2017. Not once has the weather dipped below zero before this year (I stay in SW Missouri most winters). Yet this year (2021), well I woke up today with temps at -15 degrees.  In this article, I will share with you 13 tips you can use to live comfortably while wintering in your RV. Please share on your social feeds so we can keep our fellow campers warm this winter.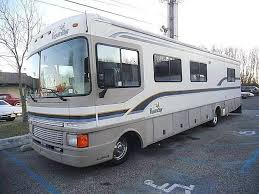 13 Tips On How To Live Comfortably in Winter Camping
You'll find many different resources to prepare your RV for cold weather camping. Once your RV is thoroughly set, have you figured out how do you not get cold when camping? Here are 13 tips for comfortable camper living in cold winter.
Prepare Your RV
Advantages of Small Travel Trailers
Have Multiple Power Sources
Stay Connected to the World
Plan Your Utilities
Electric Heating Devices
Keep Drinking Water in Jugs
Condensations Can be Problematic
Use Your Oven
Dress For Utility
Use Sleeping Bags
Keep Yourself In a Realistic Mindset
Stay Active
The Best Tips for Living In an RV In Snow
1. Prepare Your RV
As a quick review, you'll want to take the following steps to make it possible to live in an RV in the winter. To learn more about preparing your RV, see our feature articles that discuss the importance of preparing your camper for winter in detail.
Insulate your windows, doors, and other points where heat can leak out
Skirt the bottom of your RV to prevent the cold and wind from blowing through
Motorhomes should cover engine grills and the bottom prevent snow and ice getting into the engine cavity
Air conditioner units should be wrapped and sealed with plastic to prevent ice from forming inside
Slide out edges can be better sealed with cloth snakes to prevent air leaks
Take your travel trailer in for an inspection and tune-up before your trip
Make sure you have all the essential gear you need like a fully stocked first aid kit, shovel, and other supplies.
The goal is to make sure you'll have everything you need for virtually every situation that could arise. You have to prepare for situations where you may not be able to leave the RV due to snow build-up. The best way to live comfortably in isolated conditions is to make sure your RV and gear are in the best shape possible and fully stocked.
2. The Advantages of Smaller Travel Trailers
Heating an RV is one of the most important factors when you consider camping during the winter. When you consider how much does it cost to heat a camper, you have to think about how much propane you'll run through, electricity sources, and other methods.
Solar panels are a great alternative to off-set fuel costs and reduce your trips to the gas station to keep your propane heater and gas generators going. You may find RVs with thicker insulation and higher R-values, but they tend to be larger models.
Shorter length RVs have their advantages. Some have optional four-season packages available to help with cold weather. They also heat up faster since there's less internal air to maintain. Increasing the size of your RV's furnace and other heating tricks (that we'll discuss later) will increase heating efficiency to make the most of your fuel.
3. Have Multiple Power Source Options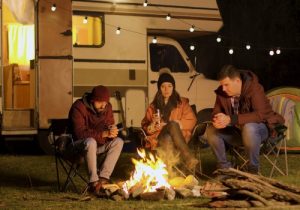 In the camping world, the colloquial definition of Murphy's Law holds. If it can go wrong, it probably will. That's why you should always go with the actual definition that says avoid any situation that could go wrong.
An important example would be your power sources. Never rely on a single power source when camping by yourself. Especially when using campers for winter living. If you miss a fuel run or have a mechanical issue, your cozy camper will turn into a bone-chilling box-on-wheels.
Shore power connections are the most reliable. Snowbelt campgrounds that stay open year-round turn off their plumbing, but do offer electricity. It's still a good idea to keep your gas generator in good working order if they have a power outage. Of course, solar panels will keep your batteries charged up. Make sure you keep a weather-eye on your batteries.
Another consideration is to keep a solar generator handy as your last line of defense. This type of generator isn't made to power your RV, but bigger models can keep your portable electronics going if everything else fails. They don't produce any fumes, and they're quiet, so using them inside your coach won't be a problem.
4. Stay Connected To the World
Hollywood loves to make movies about "ordinary people" (even though actors spend 3-6 months with experts training to perform their stunts) surviving disaster situations. It's always great to see the heroes surviving in the end. In the real world, there isn't a director who can yell, "cut."
Staying connected to the outside world is another essential tip. You may want to enjoy the solitude of nature, but having the peace of mind where you can call for help can waylay your fears.
You may capture that one-in-a-million photo of an eagle flying across a mountain scape that you want to share with your social media friends. At the ski lodge, you finally nailed that double-axle off the ski jump and want to upload the video. Having a wifi data booster can strengthen your signal in the weakest cell reception areas.
When you're enjoying the best winter has to offer, the booster can keep you connected to your RV. Many alarm systems like Ring Security for RVs have sensors to alert you on your mobile device if something goes wrong. If you lose power, someone breaks in, or other issues occur, you can be alerted as long as there's enough signal strength.
5. Plan Your Utilities
If you're dry camping for a couple of days, you're probably going to head to a truck stop with an RV dump station or other safe dump station on your route. For those planning on setting up for a longer stay, you'll want to have a plan for your utilities. Specifically, You'll need to figure out how you're going to remove your wastewater, refill freshwater, and resupply your fuel sources.
There are several trip-planning apps and websites to assist you with this. Sanidumps, The Dyrt Pro, and RV Wizard are just a few. During your trip planning process, locate dump stations and gas stations that also provide propane. To minimize your trips, you'll also want to find grocery stores to maximize your supply run.
Portable holding tanks are a sanitary way to transport your black water to the dump station. Wait until your black holding tank is full before emptying it. Since you're not using your grey tank, it should be filling up faster than usual as you pour all of your dirty water down your toilet instead of your drains.
When the black tank is full, it maintains heat well. It also has a lot of weight. During the transfer process, you'll have the best flow and the smallest chance of the dirty water freezing. The cap on the portable holding tank seals up tight to prevent spills and odors. You can use the handle and built-in wheels to move it to your vehicle to drive it to the dump station.
6. Electric Heating Devices
To elongate your propane usage, use electronic heating devices to keep you warm. Ceramic and infrared heaters are the safest heating devices to use in RVs. Both heating devices won't start fires if they fall over. The ceramic heaters have auto-shutoff sensors installed. Infrared heaters use radiant heating, so the machine itself doesn't heat up.
Some will plug in an electric heater in the storage bays to keep things from freezing. It creates a warm barrier under the floor to aid in heating the interior living space. If you do this, don't set the heater to the maximum and check on it often. There is a potential for a fire risk, so check on your storage bay heater regularly.
Heated mattress pads are perfect for making a camper livable in the winter. They come in residential sizes to fit most RV mattresses. Using a heated pad helps you stay warm while you sleep, they also create an additional layer of protection against the cold leaching up from your storage bays. The heat it generates will also warm the air in your bedroom space.
7. Keep Drinking Water in Jugs
Your freshwater, grey holding tank, and plumbing should be winterized with antifreeze RV liquid to prevent damage. In cold conditions, water expands when it freezes. The ice will crack pipes and holding tanks if they aren't heated or insulated correctly.
The exception can be your black tank if you prepare it correctly. Dumping wastewater down the toilet is the best way to keep everything contained.
If you're using your RVs furnace sparingly, the holding tanks aren't getting heat regularly. Make sure your black tank is thoroughly insulated, so it retains heat to prevent freezing.
Using 1-5 gallon jugs for your freshwater is a great way to keep your water insulated and stored while keeping your plumbing winterized. Insulated mugs and bottles will keep your water from freezing when you're enjoying your favorite outdoor activities.
The gallon jugs are portable enough to bring with you when it's time to refill them. You may want to stick with the one-gallon size to avoid wrenching your back. A great D.I.Y. idea is to use milk jugs as your refill containers. When you get back to your RV, you can pour the water onto your 5-gallon cooler.
8. Condensation Can Be Problematic
When you drive in winter conditions, you'll find that condensation builds up on your windows. The effect occurs due to the air inside your car being warmer than the outside temperature.
The same thing happens in your RV. The problem is mold spores. Try as you might, these spores find every nook and cranny to hide. When the condensation on your windows becomes dense enough, the water droplets will make it down where the window meets the wall.
The black mold spores will activate as soon as it's moisturizing. Black mold is poisonous. If it gets out of control, its almost impossible to totally eradicate . There are two ways to avert the mold from overtaking your RV. Keep up a weekly regime of cleaning and use a dehumidifier.
Keeping your interior air around 30 percent humid does a couple of things. It will minimize condensation and heat the air faster.
9. Use Your Oven
Have you ever noticed how much warmer your kitchen gets when you use the oven? As you bake or roast something in the oven, it gives off heat. That's why RV manufacturers place a roof vent with a fan above the kitchen. During the regular camping season, opening up the vent and using the fan expels the heat.
This is an excellent opportunity to hone those cooking or baking skills you've always wanted to cross off your bucket list. You don't have to try to compete with Bobby Flay on your first attempt. Many delicious recipes are easy to make, specifically for RV kitchens.
10. Dress For Utility
When you're camping, appropriate attire is comfort. The only time you'll ever need to "dress to impress" might be some type of formal campground event. Even then, a nice dress or shirt and slacks are about "par for the course."
Winter camping apparel should be about surviving the temperature. Sets of thermal underwear should be like a second skin for you. Outerwear can be whatever keeps you warm.
An affordable way to build up your winter wardrobe is to support Goodwill and the Salvation Army. You will find great bargains on winter clothing. Second-hand stores will have more fashionable apparel if you need to find the perfect item.
11. Use Sleeping Bags
Sleeping bag technology has advanced a lot. There are many different types than that cartoon character one you had growing up.
Cold weather sleeping bags have built-in materials that resist moisture, retain heat better, and protect you from various other things across multiple camping situations. Cold bags have a drawstring that allows you to close up the opening to keep your body heat inside.
Sleeping bags are primarily beneficial for backpackers and tent campers. Many of the features and benefits focus on those sleeping on the ground using a sleeping pad. Ideally, you'll be inside your insulated RV resting comfortably on your bed.
There are a few things you should know about zero-degree sleeping bags. They are either filled with down or synthetic material. Synthetics are are hypo-allergenic and still insulate when wet. Down has a better insulating R-value in extreme cold and is easier to compress when you're trying to roll it back up. Down doesn't like moisture too much.
If you pull the drawstring around your face, you'll want to keep your nose and mouth uncovered to avoid moisture buildup inside the bag. Some are fire-resistant which is perfect for sitting in your favorite camp chair beside a fire all bundled up. Don't sit too close; resistant doesn't mean fire-proof.
12. Keep Yourself In a Realistic Mindset
Keep your expectations realistic. You're camping in winter. No matter how hot you keep your RV, you're going to be cold one way or another.
The best you can hope for is that there are going to be warmer days than others. On those days, take advantage of them. Go out and have fun. If there's some maintenance you need to do, this might be the best time.
On the colder days, use those as your fun inside days. The point is, manage your expectations. Doing this will allow your mind and body to adapt better to the conditions.
13. Stay Active
Staying active is the best way to beat the cold. Movement will build up your internal body temperature. You decided to take this trip for a reason, so get out there and make the most of it.
Stay conscious about overheating. When your body becomes too hot, it sweats to release heat, resulting in you becoming chilled. If this happens, get inside immediately.
Becoming chilled and moisture buildup can result in frostbite or hypothermia. These two conditions are serious medical issues that may require professional medical care if left unchecked. Taking care of your skin while traveling is often overlooked so take precautions and be proactive.
Camping In a Winter Wonderland
With the proper planning, cold weather camping in an RV is a trip of a lifetime. There are many adventures you can find during the winter months.
Camping in winter isn't just about recreating the Jack London "man versus the frozen wild" experience. There's so much more to winter camping that makes this type of camping worth the effort.
Ski lodges have designated RV parking lots where guests can hook up. Many provide electric shore power and hotel-quality bathhouses. RV guests have the run of the facilities and comforts of their coach at reduced rates.
Ice fishing is a popular sport that many communities celebrate. There are a lot of competitions throughout the winter months enthusiasts travel to with their RVs. It's so popular; there are RV companies that specialize in building coaches that double as ice fishing huts.
State parks have designated areas for snowmobiling and cross-country skiing. There are toy hauler campers that are good for cold weather. With the proper state park passes, you can get that Pow Stoke you've been waiting for.
With the RV tips we've outlined, you'll find your winter camping experience as exciting as the regular season. Be camper smart, have fun, and happy trails.
RELATED ARTICLES:
Looking for a place to stay in SW Missouri? Come on by. Blue Skys RV Park has both short term and long term parking. We are a no frills, affordable, family friendly place to stay. Free Wifi and a laundromat. Whether you are looking for overnight, weekly, or long term, Blue Skys RV Park is the place to be. The owners will go above and beyond to make your stay a pleasant one. Check us out: https://blueskysrvpark.com